Air fryer falafels and grilled veggies with a creamy tahini dressing is a feel good food.
These days so many of us are into healthy and quick high energy foods for weekday dinners. The trick I have found is that if I plan ahead and know what I am going to make, dinner can be healthy and easy.
This recipe was made so it is detox friendly, which means no dairy, no sugar and low carb, however you can adapt it as you like.
Falafels
1 can of chickpeas – rinsed
1 bunch of parsley and or cilantro
½ lemon – juice
¼ of a red onion
2 garlic cloves
1 tsp cumin
1 tsp paprika
Salt – pinch or two
2 tablespoons of Arrow root flour (you can use regular flour)
1 tsp oil for the air fryer (If baking drizzle with olive oil once on the sheet pan)
Grilled Veggies
Dice or slice a variety of your favorite veggies. i.e. Sweet potatoes, zucchini, brussels sprouts, peppers, onions, cauliflower etc.
Season with salt, garlic powder
Drizzle with olive oil
Tahini Dressing
¼ cup of tahini
½ lemon squeezed
½ cup of unflavored and non- sweetened coconut yoghurt (can use regular Greek)
1/2 tsp of cumin
Pinch of salt taste
Add hot water to desired consistency (1/4 plus cup)
Steps:
Place all ingredients for falafels in the food processor and pulse to form a paste. Not too smooth
Make tablespoon size patties and place on a plate
Cook in air fryer at 350C for 8 minutes one then flip for another 5 minutes (should be golden brown)
Grill veggies on a parchment lined baking sheet at 400C for about 15 minutes or until nice carnalized color
For the tahini dressing mix all ingredients in a bowl adding water last for consistency.
Assemble:
Make your bowls by layering your ingredients.
You can also add lettuce and or cooked brown rice for a heartier meal.
Drizzle with dressing and top with chopped cilantro and parsley.
Remember to infuse your cooking with love!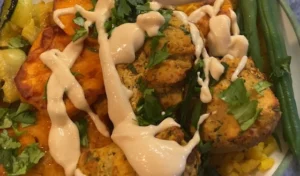 Enjoy 😊 and feel good!
*Children's version is made with pitas.