Get cozy with this delicious homemade granola that will make your whole house smell so inviting.
Our entire family loves this granola and whenever we serve it to our guests I get asked for the recipe. It is indeed a keeper for the recipe books.
It's crunchy and delicious, and every bite leaves you with so much tastebud pleasure. Store-bought granola can be loaded with sugar, so this homemade version is a healthy and delicious option that is easy to make.
Your home will smell like a bakery and feel so warm and inviting. I love making this before the kids get home as they always comment on the amazing smell.  We have been making this recipe for years and have adapted it over time.  Feel free to make any substitutions. You can even eliminate the double bake if you like your granola texture chewier.
Ingredients:
1 cup of quick oats
½ cup of sesame seeds
½ cup sunflower seeds
½ cup pistachios
½ cup sliced almonds (or whole and just crush them a bit)
½ cup unsalted cashews (optional)
½ cup of pumpkin seeds
½ cup unsweetened coconut
¼ cup of hemp hearts (optional but great for added protein)
¼ – ½ cup of honey or maple syrup
1 tbsp. of melted butter
¼ cup of melted coconut oil
¼ cup dried cherries, blueberries, or cranberries (optional)
Steps:
Toast seeds, nuts, and oatmeal on a cookie sheet in the oven, set at 350 degrees for about 10 -15 minutes, until golden brown.
Meanwhile melt coconut oil, butter, and honey or maple syrup in a pan.
Mix with toasted nuts and oatmeal when ready.
Add dried fruit, *coconut, and hemp hearts.
Put back into the oven for 5 minutes to create chunky granola.
If you are skipping the double bake, add the coconut for the last 5 minutes to get a nice golden brown color.
Store in an airtight container for a week but I doubt it won't last that long.😊
This recipe is great for a quick breakfast or afternoon pick-me-up. Wonderful when served with thick Greek yoghurt and berries.
When I am hosting a brunch, I serve this in small mason jars and make individual granola parfaits.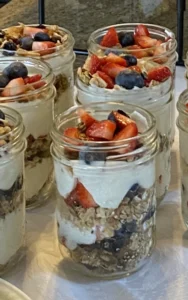 Enjoy with love.